Diversity, Equity & Inclusion
Embracing Diversity, Celebrating the Whole Person
Our diversity, equity and inclusion work is comprehensive and integrated with academic and co-curricular aspects. Saint Joseph's students are encouraged and trained to cultivate a growth mindset and to think about diversity issues beyond the usual aspects of race, ethnicity, social class, gender and sexuality.
We want our students to have an enhanced appreciation of why intercultural competence matters and how to apply learned skills to everyday interactions while on campus and beyond into their chosen professions.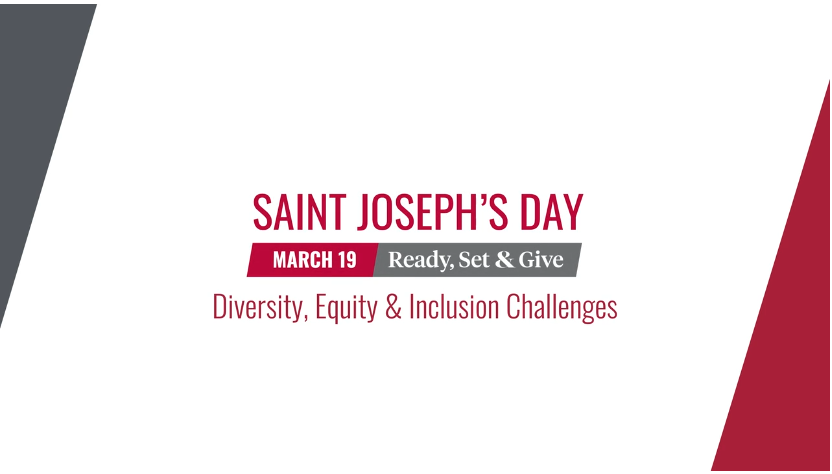 DEI Strategic Innovation Fund
Funds research, development and execution of SJU's strategic priorities associated with Diversity, Equity and Inclusion.
Permits research, development and execution of the University's strategic priorities associated with diversity, equity and inclusion
Supports the:

Annual Diversity and Inclusion Lecture Series
Annual Faculty Signature Lecture Series
Annual Day of Dialogue Program
DEI Faculty Scholars Program
Faculty Innovation Teaching
Grants program to advance diverse and culturally relevant pedagogy
Reese Blair '98 will match all gifts 1:1 up to $5,000 to ensure we hit our goal!
Update: We have reached our first goal of matching all gifts 1:1 up to $5,000! Now, Reese is challenging us again to raise another $5,000 and he will release another $5,000!
Ready to Launch Funding Initiative
The Center for Inclusion and Diversity (CID) is fundraising to establish a new program called Ready to Launch in Fall 2021.
The Ready to Launch Program is designed to be a culminating and complementary programming experience for juniors and seniors with diverse identities. The program prepares SJU students for internships, practicum and full time employment by providing career development skills for preparing, planning and navigating life after college.
The goal of this program is to:
Assist diverse SJU students with understanding their strengths and leveraging their diversity to build navigational capital toward career planning, networking and support toward successful alumni engagement.
Program activities will consist of:
Presentations on developing and growing executive presence
Vocational discernment and career trajectory planning
Considerations of internship, fellowship and graduate school opportunities, etc.
Ready to Launch builds on the successful mentorship model of our Running Start Program for diverse first-year students to begin their college career at SJU with a peer upperclass student mentor and targeted programming and guidance from the professional staff at the Center for Inclusion and Diversity.
 Current Number of Supported Students: 25
Steven Bradley '20
Communication and Media Studies Major
Starting from being in Running Start, the CID provided me the resources I needed immediately in order to achieve the goals I had in mind for myself.
It provided confidence that I would be capable of achieving what was necessary to make these four years the best investment possible for me to succeed before transitioning into the real world ahead of me. It gave me a community of people that I've grown to appreciate having met throughout my time of being here."
Jim Davock '14 has generated 5 gifts, totaling $430.00
---
Jennifer Harmon '03 has generated 2 gifts, totaling $70.00
---
Christina Mallon '10 has generated 0 gifts, totaling $0
---
Christian O'Brien '13 has generated 7 gifts, totaling $230.00
---
Kristin Prinn '04 has generated 13 gifts, totaling $2,900.00
---
Ange Rocco '15 has generated 10 gifts, totaling $445.00
---
Liana Taylor '14 has generated 3 gifts, totaling $220.00
---
DEI Strategic Innovation Fund
Elaine Terry
Anonymous
Xuyao Duan 2017
Anonymous
Araminta Brown 1999
Gregory Robinson '85
Anonymous
Marea, 2004
Anonymous
Kristin Prinn '04
Anonymous
Kristin Prinn '04
Mylik Ganey '00 & '08
Anonymous
Phillips Family
Anonymous
Anonymous
Kristalyn Baisden
Anonymous
Anonymous
Robert Smith & Christina Miller Smith '03
April Paschal Lee '08
The Louie Family
Anonymous
Kirstin Bomely 2005
Anonymous
Cary & Cindy Anderson
Casey Adams 2015
Kasey Anderson
Anonymous
Anonymous
Anonymous
Anonymous
Anonymous
Molly Robbins '11
Katie (Burke) Kennedy '04
Michael Beattie
Kayla Soders • Class of 2015
Marty McAdams 1967
Donna Marchese
Anonymous
Anonymous
Ali Corr '17
Anonymous
Morgan Williams '19
Anonymous
Anonymous
Anonymous
Anonymous
Scott Donnini 1990 & Julianne Marth Donnini 1988
Anonymous
John P. McGee 1971
Bernard M Skeete '94
Anonymous
Anonymous
Anonymous
Anonymous
Marcia & Douglas Beckmeyer
Anonymous
Anonymous
Anonymous
Brian Dooner '83 & Marlene Dooner '83
Hank Gillen
Jennifer McBride Altamuro Class of 94
Janice Figenshu
Anonymous
Anonymous
MaryLou (Sheehan)Gonzalez '86
Anonymous
Anonymous
Dee Adeyemo
T. Anthony Jones
Patrick Merlie Class of 2018
Anonymous
Anonymous
Anonymous
Jennifer Kakalec Peterson 1993
Anonymous
Anonymous
Anonymous
Martha VanAuken
Anonymous
Anonymous
Anonymous
Rosie Kelly Sullivan '09
Steven Pieri
Jenn & Andrew McNamara '10
Anonymous
Karl J. Kraft '94
Ryan Fox '14
Anonymous
Anonymous
Angelica Rocco '15
Kevin '89 & Sarah '89 Quinn
Anonymous
Anonymous
Joyce Lagas '97 McDermott
Anonymous
Anonymous
Anonymous
Anonymous
Jennifer Harmon, 2003
Beth Rocco
Michael Bergamini, Class of 2016
Jill Dougherty Cleary '00
Anonymous
Anonymous
Anonymous
Anonymous
Anonymous
Anonymous
Molly Trimmer
Anonymous
Anonymous
Dan '94 & Suzanne Gallagher
Anonymous
Anonymous
Anonymous
Anonymous
Jamie Dugan 2019
Anonymous
Alessandra Corso '09
Beth Ford McNamee, '99, '00
L.J. Taylor '14
Anonymous
Jim Davock '14
Mary Deane Conners
Anonymous
Anonymous
Jeffery Smith
Christian O'Brien #THWND
Anonymous
Anonymous
Anonymous
Anonymous
Michael Rath
Anonymous
Nicole Stokes
---
Ready to Launch Funding Initiative
Anonymous
Anonymous
Anonymous
Anonymous
Lauren Rozanski 2002
Anonymous
Anonymous
Anonymous
Anonymous
Dr. Kerry Scott
Katie Grilli 2013
Anonymous
Anonymous
Ehsani Family
Anonymous
Anonymous
Christian's Parents
Gayle Sherman '20
Anonymous
Anonymous
Anonymous
Catherine Broach (1987) & Emmett Peabody
Jennifer Walker
Lauren Malazita, '05
Anonymous
Anonymous
Kayla Soders • Class of 2015
Aly Bartolomei, Class of 2015
Anonymous
Liz Schlickbernd '19 (M.S.)
Christian O'Brien #EmbracingDiversity
Anonymous
Anonymous
Anonymous
Peter & Sally Murphy
Peter & Sally Murphy
Monique Kelly '94
Anonymous
Anonymous
Almonte Family
Molly Farley
Anonymous
Ciara Andrews 16
Joshua Durando, 2008
Anonymous
Anonymous
Joe DiAngelo '00
Anonymous
Monica Argenzio, Class of 2015
Anonymous
Anonymous
Anonymous
Anonymous
Mike Borrelli '15
Denise Vicario
Anonymous
Anonymous
Anonymous
James J Freeman
Anonymous
Michael Rath
Anonymous
Anonymous
Make a recurring gift, get SJU stickers
Make a recurring gift, get SJU stickers
Make a recurring gift, get SJU stickers